"They loved it, I can't get them to talk that much on FaceTime with family!!! It was awesome." – Jenna in Winchester, VA (mother of 4, ages 5-11)
Since 1985 MicheLee Puppets has been connecting puppets to the heart of children. We know how much a one-on-one interaction with a puppet can help children express themselves. In this time of social distancing, we are excited to offer Live Puppet Chats.
These virtual sessions allow your child/children to interact in real time with a puppet character. Sing, dance, read a story, or just simply chat. Each session is child-guided and completely unique! There is no charge for this as we continue our mission digitally empowering lives through the art of puppetry.
How It Works:

Once you have signed up, you will receive an email from volunteer@67.23.246.118 asking for CONSENT for your child to participate. Additional information such as children's names, ages, and favorite things may also be requested.
Once you reply with CONSENT, you will receive a confirmation with a link and password to a ZOOM Meeting.
Important Information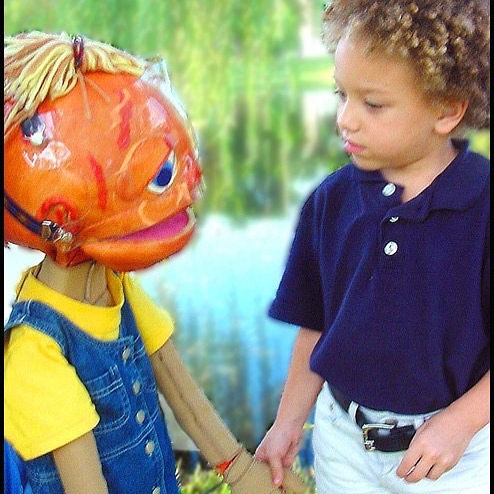 Dealing with feelings– These chats are designed for children to connect directly with our characters in real time and sometimes children may reveal that they are dealing with feelings. While our performers have years of experience talking with children about a variety of issues, they are not licensed therapists. As part of our training, we have consulted with mental health professionals to determine best practices to deal with feelings. Since these sessions are guided by your child, we will do our best to acknowledge feelings that may come up and encourage you to continue the conversation. Click Here for "Caring Cards" created by Sesame Street that may help with next steps.
Video– We want to make this the best experience for your child and are excited to share video of our live puppet chat with you via email. This video will not be made public by MicheLee Puppets, but may be reviewed internally to best train our performers. If you prefer that we not video the chat, please alert us via email prior to your Live Puppet Chat. All videos will begin recorded for the safety of the performers and can be stopped once connection is confirmed if alerted ahead of time.
WHAT PEOPLE ARE SAYING:
Testimonials:
"The puppeteers are phenomenal – very funny and engaging and able to roll with whatever the children want to talk about. My kids always look forward to our puppet chats. They brighten our week!"
"This has quickly become one of my kids favorite activities. We can't get enough!"
"This was such a delightful experience. My son was a little reluctant at first when I told him about it but he had such an enjoyable time. He asked me immediately, 'when can I do that again?'. Thank you for taking the time to provide this service to the kids during these challenging times."
Questions? Need a different time or date than is available? Email jamie@67.23.246.118
We look forward to connecting with all of you!
Need more fun from home? Check out our "From Home: Activities, Virtual Tours, and Resources" post below:
http://67.23.246.118/~micheleepuppets/from-home-activities-education/