In 2015 we had the honor of hosting Matty Smith and his family when the Make a Wish Foundation sent them to Orlando to fulfill Matty's wish to be a puppeteer. Click Here to read about that joyful experience!
We are delighted to have continued our relationship with Matty and his mom Taryn who sent a special message:
Since our first meeting we fell in love with Matty's spirit and wanted to continue his connection to puppetry. Shortly after his visit, Producing Director, Jamie Donmoyer invited Matty and Taryn to his first National Puppetry Festival. Puppeteers from across the nation come together to watch shows, take classes, and explore the art of puppetry. Matty got to meet Sesame Street puppeteers Carroll Spinney (Oscar/Big Bird) and Leslie Carrara-Rudolph (Abby Cadabby) as well as a number of puppeteers from some of his favorite shows. At this festival, Matty also discovered the Puppetry Store, a place where puppeteers can purchase supplies, books, and other merchandise including puppets! How his face lit up when he found characters to take home and make his own!
Through texts, emails and visits we have stayed connected to Matty and Taryn. Matty has certainly faced some challenges, but he keeps his puppets with him, entertaining not only himself, but family and hospital staff as well. He now has a collection of characters that travel with him, and he brings each to life with its own distinct personality.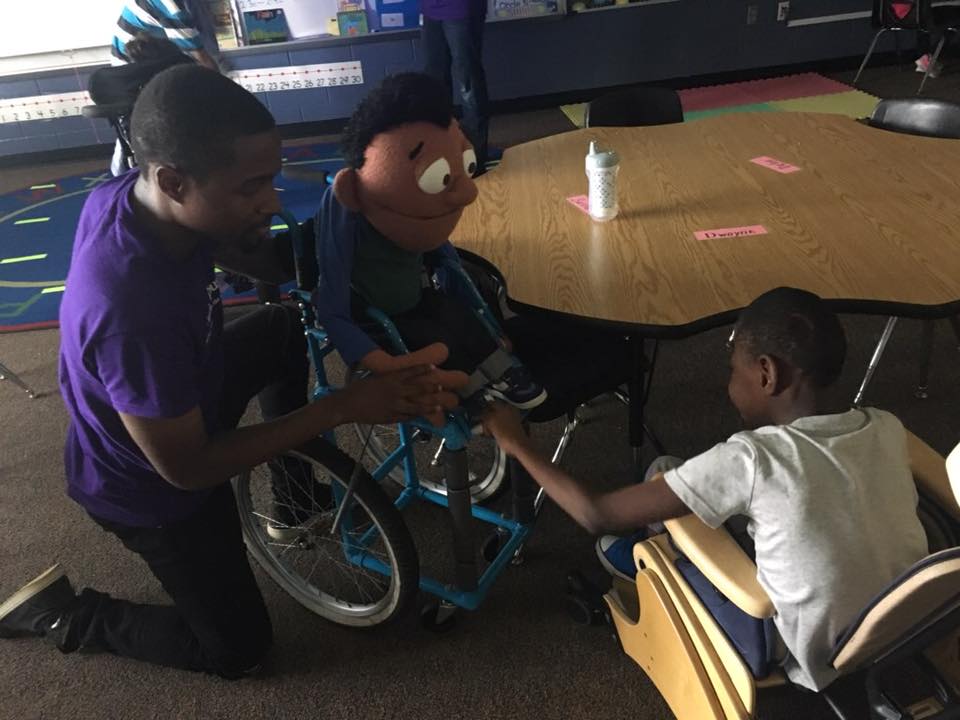 Matty even inspired puppet character 'Marcus' from our touring show "Mission STEAMpossible". Like Matty, Marcus has a love for arts, an adventurous spirit, and uses a wheelchair due to the effects of Osteogenesis Imperfecta. We love to introduce this endearing character to youth across Central Florida, many of whom see themselves in Marcus.
In 2019 we are excited to continue important programs including classes where people with unique abilities can learn to express themselves through the art of puppetry and movement. These classes will be held at our studio and are open to the public. To register, contact jamie@67.23.246.118
It is through the generosity of donors like you that allow us to continue empowering lives through the art of puppetry. Click Here to make your tax deductible donation and positively impact the lives of youth.