March 25, 2018 with shows at 11am and 1:15pm
Celebrate the art of puppetry with hands-on activities, performances, and more featuring "The Oz in You: Let's Talk Character" a family comedy concert and character talk by Leslie Carrara-Rudolph, 5 time Emmy nominated performer of Sesame Street's Abby Cadabby with John DeHaas on piano.
Help us set a record!
Bring new, fuzzy socks and help MicheLee Puppets set a record for the most sock puppets assembled in one hour! All puppets will be donated to youth in need as part of MicheLee Puppets' "Sock Puppets with a Heart" program and used in "Puppets Helping Kids in Crisis," our initiative to help families relocating to Central Florida.
"The Oz in You: Let's Talk Character"
(Ages 5 and up) Artist, writer, and entertainer Leslie Carrara-Rudolph creates characters as a yellow brick road to joy. This interactive performance utilizes art, puppetry, storytelling and improvisation to inspire young people to develop their "character" by creating characters themselves. Join Leslie and her puppet pals for a journey through the imagination and discover the "Oz" in you. Featuring John DeHaas on piano.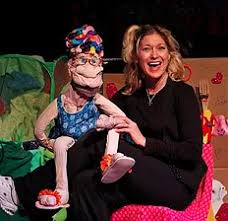 ABOUT LESLIE Carrara-Rudolph www.lesliecarrara-rudolph.com Five-time Emmy Nominee Leslie Carrara-Rudolph is a multi-faceted entertainer, puppeteer, voice-over artist, writer and creator. She is best known for performing Abby Cadabby on Sesame Street, and as Bubbles in the Jim Henson Company's Splash And Bubbles. A graduate of San Francisco State University (BA, Child Development Through The Arts), Leslie got her start as a puppeteer on ABC's Muppets Tonight and went on to develop her own signature character, candy-loving 5-year old Lolly Lardpop! Listen to Lolly and her pals on "Lolly Lardpop's Radio Playdate!" a fun-filled, family-friendly podcast! www.lesliecarrara-rudolph.com
Plus celebrate with these hands-on activities!
Cosmic Kitty by Good Knight Theatre www.goodknighttheatre.com
Come speak to Cosmic Kitty and have your future revealed! A Zoltar-type booth that you can interact with. Find answers to life's mysterious questions or tell cosmic kitty your dreams and wishes.
Pop-Up Exhibit for Art31 2018: Fiber
Meet Godrick– a cosmic child born from a mysterious
egg sac. (And a project by artist & performer
Jack Fields.)
Art31 is an innovative series of contemporary art exhibits and happenings throughout the month of March and
beyond, presented by Art & History Museums -Maitland www.artandhistory.org
Interactive Shadow Puppetry Station
by Geoffrey Cormier
Learn secrets of how to create your own shadow puppet theater using everyday materials. Students, teachers, and artists of any age are welcomed to join in. These lesson can be from the beginner basics to advanced shadow techniques based on your level of experience and interest.
Puppetry Imitates Life! Swim with Fish! Dive with turtles! Come face to face with a Florida Gator, or even a Florida Panther! Interact with the creatures and endangered species of IBEX Puppetry and The Big Potato Foundation.
Activity Table by the Central Florida Puppet Guild
Color your favorite characters from World Puppetry Day and take them home with you.
All Sunday Family Fun Days take place at:
641 Maitland Avenue S. Maitland, Fl
Reservations are recommended. A $5 donation per family is requested. Not required for entry.