At the end of a performance of MicheLee Puppets' bully prevention show A Good Day for Pancake, a second grader, identifying himself as "Policeman Kevin," approached performer Jamie Donmoyer saying "Please tell the dog that Policeman Kevin has a few questions for him."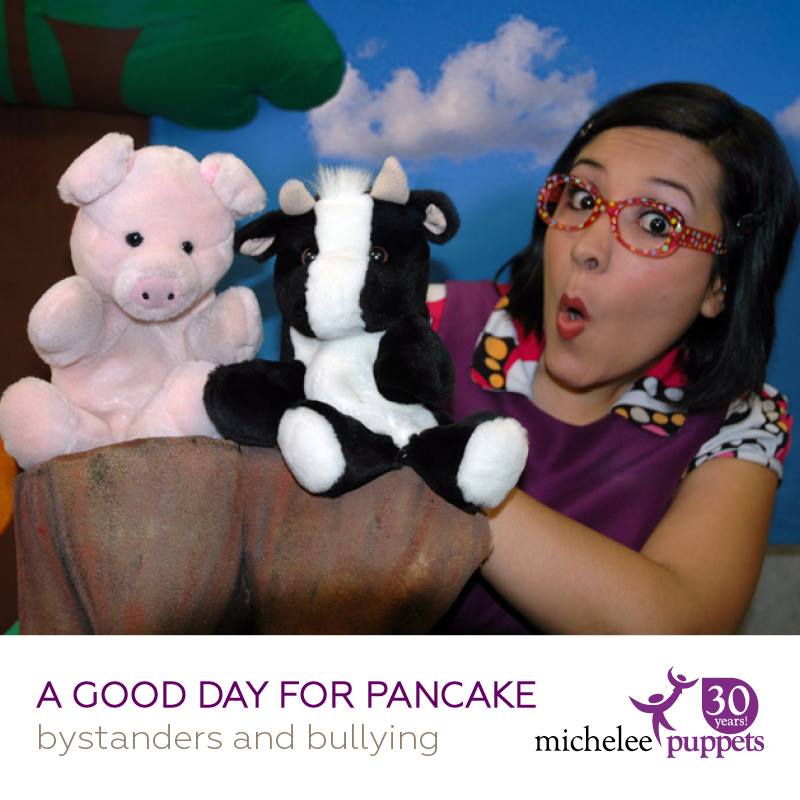 A few moments later, "the dog" (a small, stuffed-animal hand puppet named Willie Walker) emerged to face questioning. Policeman Kevin, now joined by his classmates, interrogated the bully.
Policeman Kevin: "Why are you a bully?"
Willie Walker (dog): "Why do you think I am a bully?"
Crowd of students: "Because you're mean!" "Because you like to be!"
Policeman Kevin: "Because you hate children."
Willie Walker responded that he did like children. He explained that it was his first day at a new school, and he confessed that he had made bad choices when trying to make new friends. It was at that point that Policeman Kevin made the arrest.
"Put your hands behind your back. You have broken the law by being a bully."
Only upon promising to make better choices in the future was Willie Walker released from custody, free to perform in his next show.
A teacher identified Policeman Kevin as a student on the autism spectrum. She explained that his classmates are very protective of him, and they were concerned that "Willie Walker" would say something to hurt their friend. Kevin's interactions with this puppet dog were as real as if with another human, and yet he does not interact with other humans in this way. There is something about a well performed puppet character that creates a non-threatening environment where students with tactile issues, like Policeman Kevin, can touch the hands of the puppet without a second thought. His classmates were relieved to see that Kevin had the situation handled and congratulated him for standing up to the bully.
MicheLee Puppets empowers lives through the art of puppetry and in our 30th year celebration, we are excited to share our experiences through stories just like this one. If you have a story that you would like to share about your experience with MicheLee Puppets, we 'd love to hear from you! Email Jamie@67.23.246.118 or call 407-898-7925 x 223.
To empower your students by booking "A Good Day For Pancake" or any of our live shows visit http://67.23.246.118/~micheleepuppets/book-a-show/ or email or call Denise@67.23.246.118 407-898-7925 x 1.